Hi guys!
I'm entering a rather busy period in my life and to be honest, there's a lot of turbulence here and there so apologies for the wait.
I'd just like to take a moment to tell the dedicated readers out there, who still appreciate this series that I can't have done all of this without you. You guys are what's keeping this series alive and you guys know who you are.
Thank you for the support and the continuous appreciation!
Next guest, we have our third electric rat player in the series....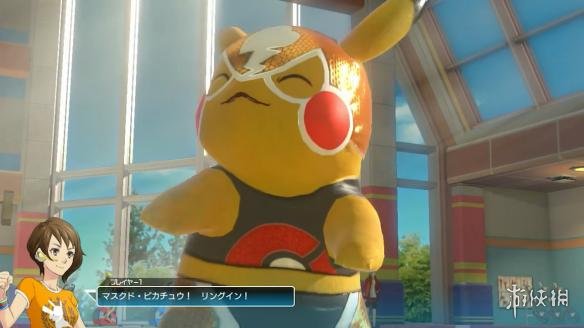 The face and mastermind of the revered and respected Toratawa tournaments....
SPY-SAN! (for all the TOs out there especially!)
A little bit of background information:
- The mastermind of one of the highest level locals in the world, Toratawa! Words don't do this man justice for assembling such stacked lineups weekly!
- Often organizes other events such as game bar gatherings for players especially when there are guests from other regions, or countries.
- Master of upsets, and have been in grand finals of a handful of Toratawa tournaments. (Unfortunately I don't recall him ever clutching out the first place...)
- Follow him at @spy_nakamura on twitter!
-
-Glossary for noobs-
Toratawa: "Eternal Tower", a game center in Akihabara, Japan which in this case also means the name of the old arcade weekly locals that were run primarily by SPY. One of, if not the most stacked local tournaments in the history of Pokkén. 
-
Interview begins!
-
M: So why are you a Libre main?
S: I played even since the start of the games arcade release and at the time I was using Gengar and couldn't win at all... So I didn't play for about two weeks but when I came back I decided to pick up and play Libre as she was a new character at the time. As I played her I realised I was suddenly winning and that Libre was more fun than Gengar, so I switched then!
M: What other fighting games do you play and do you think it influenced your play?
S: I play Tekken 7 a little. I say this as I don't have a PS4 so I play Tekken purely in the arcades. I think however other games don't really have a big influence on Pokkén as it has a unique system and way to play.
(Editor's Note: I think I have to disagree a little with SPY as other fighters definitely influenced my play somewhat... I also think duel phase in Pokkén is very heavily influenced by SF4 but this is purely the way SPY sees it!)
M: What are your top 3 and worst 3 pokemon for this game?
S: Best are Mewtwo, Garchomp and Braixen. Worst are Gengar, Croagunk and Aegislash.
I think Pokkén as is, is a well balanced game so I don't think there's a significant gap between strong and weak characters. Rather, it's simply characters with larger health pools that have advantage and lower health pools are a bit disadvantageous. I think characters with hard combos and require difficult judgement that takes a lot of your attention can be said are the worst.
M: So if you can add to the game, what would you want added to the game?
S: Hmm... I think it would be nice to have a means of communication while you are playing the game. I don't really like the way you need to go on Twitter to communicate.
M: If there was anything you could change about the game what would you change?
S: I'd like the option to be able to specifically filter what character you want to play against and choose their rank range.
M: Are there any players you wish to spotlight for any reason?
S: I feel like I don't need to introduce any players who attend and leave results in tournaments, as they probably will already know of such players.
For someone who does not really attend tournaments it would be Alta Machamp. He's probably the player that the overseas crowd would want to see the most among those they've never met. Another one would be Shiori Braixen. It would be good if she could gain a little more fame I guess. *SPY laughs*
M: What are your hobbies besides Pokkén and fighting games?
S: I like to watch TV, especially comedy shows and sports!
M: What's your favourite sport to watch and why?
S: I like pro wrestling! I usually watch Japanese wrestling programs but I also do like wrestling groups from overseas as well. I do use Libre partially because I love pro wrestling.
Japanese Pro Wrestling!
M: So because you are an organizer, what do you think is the most difficult thing about being an organizer?
S: If the scale of the tournament is large, then I guess there is a lot of preparation and that can be considered the hardest thing? But if there are a lot of people willing to help, then I don't think it's actually that bad.
(Editor's Note: Maybe we can take this as encouragement for people to step forward to help the community more!)
M: What made you choose to be an organizer and what motivates you to keep going?
S: At the start I didn't even have friends, so making friends was my main motivation. I attended tournaments as well but couldn't really talk to people who were A ranked and I found it difficult to just jump in the middle of the social circle within higher ranked players. At the time I was a D rank player but I was able to become good friends with the C and D ranks but I also thought that if I couldn't win against these guys I would never win against the higher ranked players so I thought of making C ranked and below tournament, which was the start of Toratawa actually.
I also think that if there are no tournaments, the community size will start shrinking so I thought if I don't continue then the community would lose its meaning, so I persevered.
M: How did you feel about losing Toratawa tournaments?
S: At first I was running it every Friday to make sure that it kept going, however I already knew in advance that it will one day be the last day so I was prepared, and wasn't all that shocked about it. Even for titles outside of Pokkén, it is about time for the players and developers of the game to decide whether it's better to have tournaments for the arcade version or the home version. I'm pretty sure that there are some people who were shocked when tournaments from arcades end up being discontinued, but as for myself I just thought that as long as there are tournaments elsewhere, that's still a good thing right?
M: Pokkén has a relatively small community compared to mainstream fighters. Why do you think that is?
S: The fighting games which are mainstream and thriving at the moment usually have ten to even twenty years of history so I don't really mind or think so much about the community's size. I think the main reason is because there aren't many people who rock up to tournaments to try playing for fun as people can just buy a soft copy of the game. I think it's really impressive that ARMS are having a lot of numbers in their tournaments even though the game came out later than Pokkén though.
M: Any advice for the community to help you make it grow?
S: Hmm.. I think all I want is for people who aren't winning or are too busy with work to not give up and stop playing. The other thing I'd want is for people playing other games that know different circles of communities to maybe introduce them to Pokkén or try getting them in the Pokkén community maybe?
M: Any questions you'd like to be asked?
S:
Q: Are you seriously going to play Blastoise?
A: I'll show you what the pride of a 20 year long love for Blastoise is!
Maybe SPY
M: Oh so you like Blastoiste! Then please tell us what you like best about him so far?
S: I think his looks are both cute and cool at the same time! The first time I bought a Pokémon game was Pokémon Blue. That was 20 years ago and that is why I like Blastoise maybe. Because of Blastoise I only chose water starters for the next three generations.
Cute and Cool is how we roll!
M: I see! Last question! What's your most important mission as a person who belongs in the Pokkén community?
S: I guess it's to make Pokkén a recurring chosen title in the EVO line up.
I'd like Pokkén to also have longevity to continue in the forms of Pokkén 2 and Pokkén 3.
M: Last words for the fans and readers please!
S: Compared to others who have taken this interview, I don't really have the results so I don't know whether I have fans or not... But anyway, Japan Pokkén has a lot of extremely strong players so I would be really happy if others could come here even once to play together!
M: Thank you SPY-San!
End of Ep.10, Ft SPY!
Thank all of you guys for your patience and interest in this series! Stay tuned for more~
~~Midori~~
_
Japanese version / 日本語版
M = みどり
S =  SPY
追加=最初の問答を読んだ後考えた質問でした。
1.SPYさん はなぜマスクメインですか?
アーケード版がスタートした日からやってて、その時はゲンガーを使ってたんだけど全然勝てなくて2週間くらいやらない期間があったんだけど、久しぶりにやったらマスピカが遊べるようになってて、新キャラだからちょっと触ってみたらいきなり勝てたりして、マスピカの方が楽しいなって思って変えた。
2.ポッ拳以外、何の格ゲーをやているですか?他の格ゲーをやったからこそ自分のスタイルを影響されてますか?
今は鉄拳7を少しやってるくらいかな。PS4を持ってないからアーケード版オンリーだけど。
ポッ拳は操作が特殊だからあんまり他のゲームの影響は感じないかな。
3.個人的に、ポッ拳のベスト3とワースト3をお願いします
ベスト:ミュウツー、ガブリアス、テールナー
ワースト:ゲンガー、グレッグル、ギルガルド
ポッ拳はバランス自体はいいゲームだと思うから、そんなに強キャラ弱キャラに差はないと思う。
単純に体力が多いと有利、少ないと不利だとは思ってる。
コンボが難しかったり、状況判断が忙しかったりするとワーストだと考えるかな。
3b. このゲームを何でも追加できる場合、個人的にどうなさいますか?
ゲームの中でコミュニケーションを取れる様にして欲しい。Twitterを見なきゃコミュニケーション出来ないのが少し嫌。
4.ポッ拳と格ゲー以外趣味は?
TVを見る。お笑いの番組とかスポーツの番組が好き。
5.オーガナイザーとして一番大変な事はなんでしょうか?
大会の規模が大きいと準備がたくさんあるからそれが大変かな?
手伝ってくれる人が多ければそんなに大変なことはないと思う。
6.何の理由でオーガナイザーになりましたか?今まで活躍するのモチベーションは何でしょうか?
最初は友達が1人もいなくて、友達が欲しかったからやろうと思った。
初期から大会には参加してたけど、Aランクの人とは喋ったことなかったし、いきなり上位勢の中に入るのはキツいから、その時自分はDランクだったんだけど、Cランク・Dランクくらいの人から仲良くなっていって、このメンバーに勝てないと上位勢に勝てないと思ったから『Cランク以下大会』っていうのをトラタワでスタートさせたんだ。
大会がないとコニュニティが小さくなっちゃうから、やり続けないと意味がないからやってた。
7.ポッ拳と言うゲーム、流行している格ゲーに比べるとコミュニティサイズ割と小さいので、個人的にどうしてそうになりましたか?
今流行っている格ゲーってほとんど10年~20年前からあるゲームの続編だから他のコニュニティのサイズは気にしてない。
ソフト自体は売れてると思うけど、大会に出たりコミュニティに入ろうと思ったりするガチでプレイする人が元々少ないのが原因かなって思う。
ポッ拳より後に発売されたのに大会参加人数が多いARMSは凄いと思う。
8.このゲームのコミュニティをもっと大きくなるために、現在のコミュニティメンバー達はどうするべきですか?アドバイスなどありますか?
今いる人たちは自分が勝てなくなったり、仕事が忙しくなってもポッ拳を辞めないで欲しい!くらいかな?
あとは別のゲームも同時に頑張ってそっちのコミュニティで知り合った人をポッ拳コミュニティに入れて欲しいかな?
9.自分が自分に聞きたい質問は?その質問の答えもお願いします〜
Q:カメックス本気でやるんですか?
A:カメックスを愛して20年のプライド見せます!
10.ファンと読者に一言をお願いします!
今までインタビュー受けてた人に比べると大会実績ないからファンがいるか分からないけど、日本のポッ拳勢は強いプレイヤーは多いので1度でいいから日本に遊びに来てくれたら嬉しいです!
_
追加1。 トラタワ大会なくなる瞬間どんな感じになさいますか?
元々なくならない様に毎週金曜日に大会をやってたから金曜大会をやらなくした時点でなくなるのは知ってたからショックとかはなかった。ポッ拳以外のタイトルも含めてアーケード版と家庭用版のどっちで大会やるのがgoodな選択なのかをメーカーもユーザーも考えなきゃいけないタイミングだと思うから、ゲームセンターの大会が無くなる事にたいしてショックを受ける人はいるかもしれないけど個人的にはそのかわりに他の場所で大会やったらいいんじゃない?って思う。
追加2。カメックス好きマンだか!カメックスの一番好き部分はなんですか?(技とか、チャームポイントとか)
見た目がかっこいいしカワイイよね!1番最初に買った本家ポケモンが20年前のブルー版でジャケットがカメックスだからそれが大きい理由かな。カメックスの影響で最初の3匹は水ポケモンしか選ばないし。
追加3。 海外勢に紹介したい日本の方いませんか?(みんなまだ知らない強いプレーヤーとか、すごい頑張ってる人とか?)
大会に出て結果を出してるプレイヤーだと紹介しなくても海外勢は知ってるかもしれないから、大会出てないプレイヤーでいうと『アルタカイリキー』かな。会ったこと無いプレイヤーで1番海外で見てみたいプレイヤーだし。あとは『しおりテールナー』はもうちょっと有名になってくれると嬉しいから名前出しておく(笑)
 追加4。このゲームは何か変更できれば個人的に何を変更しますか?
フレマの時に相手のキャラとかランクとかまで細かく指定出来る様にして欲しい。
 追加5。一番見るのが楽しい運動は?なぜですか?
好きなスポーツを書けばいいのかな?好きなスポーツはプロレス。
基本的には日本の団体を見るけど海外の団体も好きだよ。マスピカを使っているのはプロレスが好きって部分もちょっとある。
追加6。ポッ拳勢として、一番の目的はなんですか?
毎年EVOのメイン種目に選ばれるくらいのタイトルになって欲しいかな。あとはポッ拳2とかポッ拳3とか長く続くタイトルになって欲しい。
ー
SPYさん、インタビューお疲れ様でした!m(uwu)m