It's that time again, time for more hype action and time for another Weekend Watchlist!
Pokkén fans from all over the world will have something to watch and someone to root for this weekend as Burnside Brawl takes off alongside 2GG's Switchfest, with both events seeing competitors from across North America and abroad! XAbsoluted from EU and CROSS-Igarashi from Japan will compete at Switchfest thanks to the community helping reach their compendium goals, and Gintrax from EU will take on the Burnside Brawl with his challenge to the attendees in full effect. 
Who will claim the large cash prize in California? And who will come out on top at the most premier house-party known to man? All these questions answered and a load of high quality gameplay coming your way this weekend.
2GG Switchfest
April 21-22, 2018
Long Beach, CA
_____________________________________
Stream: 
https://www.twitch.tv/2ggaming
Schedule:
Notable entrants include:
BadIntent 
Son_Dula 
XAbsoluted 

V3

 CROSS-Igarashi 

StDx

 ALLISTER 
Couch 
Cat Fight  

NRG

Nairo 
Abadango  

MSF

Larry Lurr  
Significant rivalries/matches to watch out for:
XAbsoluted vs CROSS-Igarashi (The battle of the two hype Lucario masters from overseas)
ALLISTER vs Nairo (Remember E3?)
Bracket:
https://smash.gg/tournament/switchfest-1/events/Pokkén-tournament-dx/overview
More Info:
https://smash.gg/tournament/switchfest-1/details
Burnside Brawl 
April 21 2018
New Haven, CT
_____________________________________
Stream: 
Schedule:
(Times in EDT)
11:00 AM - Check-in and setup
12:00 PM - Wave A Pools (1+2) begins
02:30 PM - Pool Wave B (3+4) begins
05:00 PM - Top 12
07:30 PM - Tourney end
Notable entrants include:
Significant rivalries/matches to watch out for:
Gintrax vs Rokso (The instigator of the flight challenge vs the man who took up the challenge)
Pursuit vs Burnside (The Grandfather of Suicunes vs the Father of Suicunes)
ThankSwalot vs slippingbug (Rematch of NCR 18 grands, two favorites to win the event)
Bracket:
https://smash.gg/tournament/burnside-brawl/events/Pokkén-tournament-1v1/overview
More Details:
https://smash.gg/tournament/burnside-brawl/details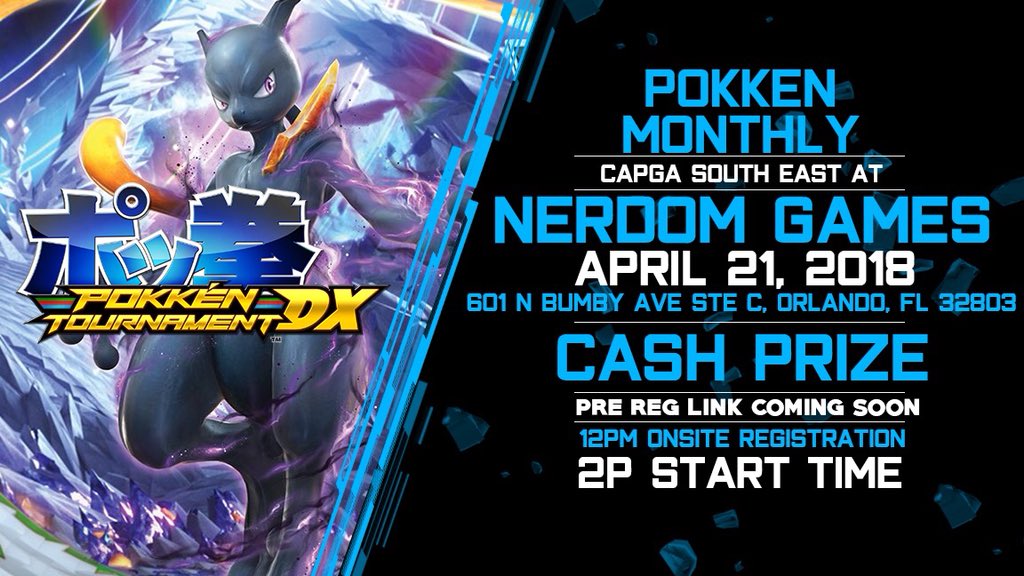 CAPGA Pokkén Monthly
April 21 2018
Orlando, FL
_____________________________________
Schedule:
(Times in EDT)
12:00 PM - Registration
02:00 PM - Tourney start
More Details:
https://twitter.com/CapgaSouthEast
Pokkén Arena #2
April 21 2018
Hilliard, OH
_____________________________________
Schedule:
(Times in EDT)
03:00 PM - Registration
03:35 PM - Tourney start
Notable entrants include:
Thulius 
A_Wild_Gallade 
Drakonzeta 
WhiteChocolate 
AlolanDurgs 
More Details:
https://www.facebook.com/events/197929164324986/